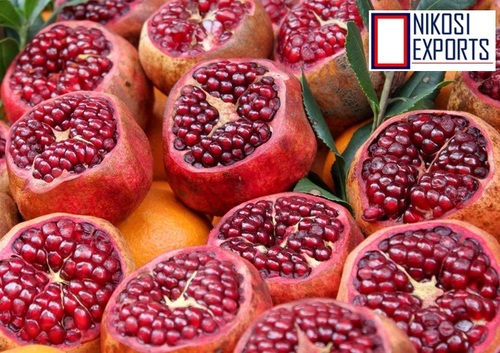 Export Quality Pomegranates
Price And Quantity
Kilograms/Kilograms

1.26 $ USD ($)
Product Specifications
Pomegranates

Export Quality Pomegranates
Product Description
Export Quality Pomegranates
Pomegranate is an important crop in India. It is called asWonder Fruit because of its excellent health benefits. Pomegranate fruit ispopular because of refreshing winey flavor of its juicy seeds known as arils.
The name "pomegranate" is derived from the MiddleFrench "pomme garnete" - means seeded apple." Imprexis Overseassupplies Bhagwa variety - this is regarded as amongst the best variety in theworld! Pomegranates have been symbols of prosperity, hope, and abundance inevery part of the world. This nutrient dense, antioxidant rich fruit has beenrevered as a symbol of health, fertility and eternal life. One pomegranatecontains about 40 percent of daily requirement of vitamin C. Unopenedpomegranates can last up to many months if placed in the refrigerator.
FRUITCOUNT / BOX (3.50 KG NET WT.):
180 to 200grm 18 to 19 No.
200 to 250grm. 15-16 No.
250 to 300grm. 12-13 No.
Above 300grm. 10 No.