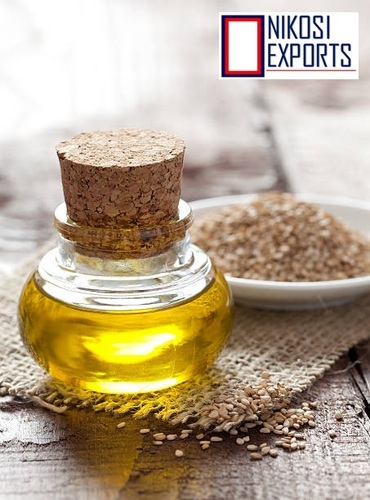 Wood Pressed Sesame Oil
Price And Quantity
Liter/Liters

4.64 $ USD ($)
Product Specifications
100%

15kgs, 5 Litre, 2 Litre, 1 Litre, 250ml
Product Description
Wood Pressed (Marachekku) Sesame / Gingelly / Til Oil(Cold Pressed)Sesame is commonly known as Till. Its botanical name is Sesamumindicum L. It is one of the earliest domesticated plants. It is a short duration crop grown throughout the year. The seeds of the plant yield edible oil. Due to the presence of potent antioxidant, sesame seeds are known as theseed of immortality. Two distinct types of seed are recognized, the white and the black. There are also intermediate coloured varieties varying from red torose or from brown or grey. Sesame oil is an edible vegetable oil derived from sesame seeds. Besides being used as a cooking oil, it is used as a flavor enhancer in many cuisines, having adistinctive nutty aroma and taste.
Fat: 100.00g

Polyunsaturated: 41.700 g

Vitamin E: 9% 1.40 mg

Vitamin K: 13%13.6 ¼g.

We are a most trusted name in between the top most companies in this business, instrumental in offering a high-quality array of 500 Gram Cold Pressed Sesame Oil.